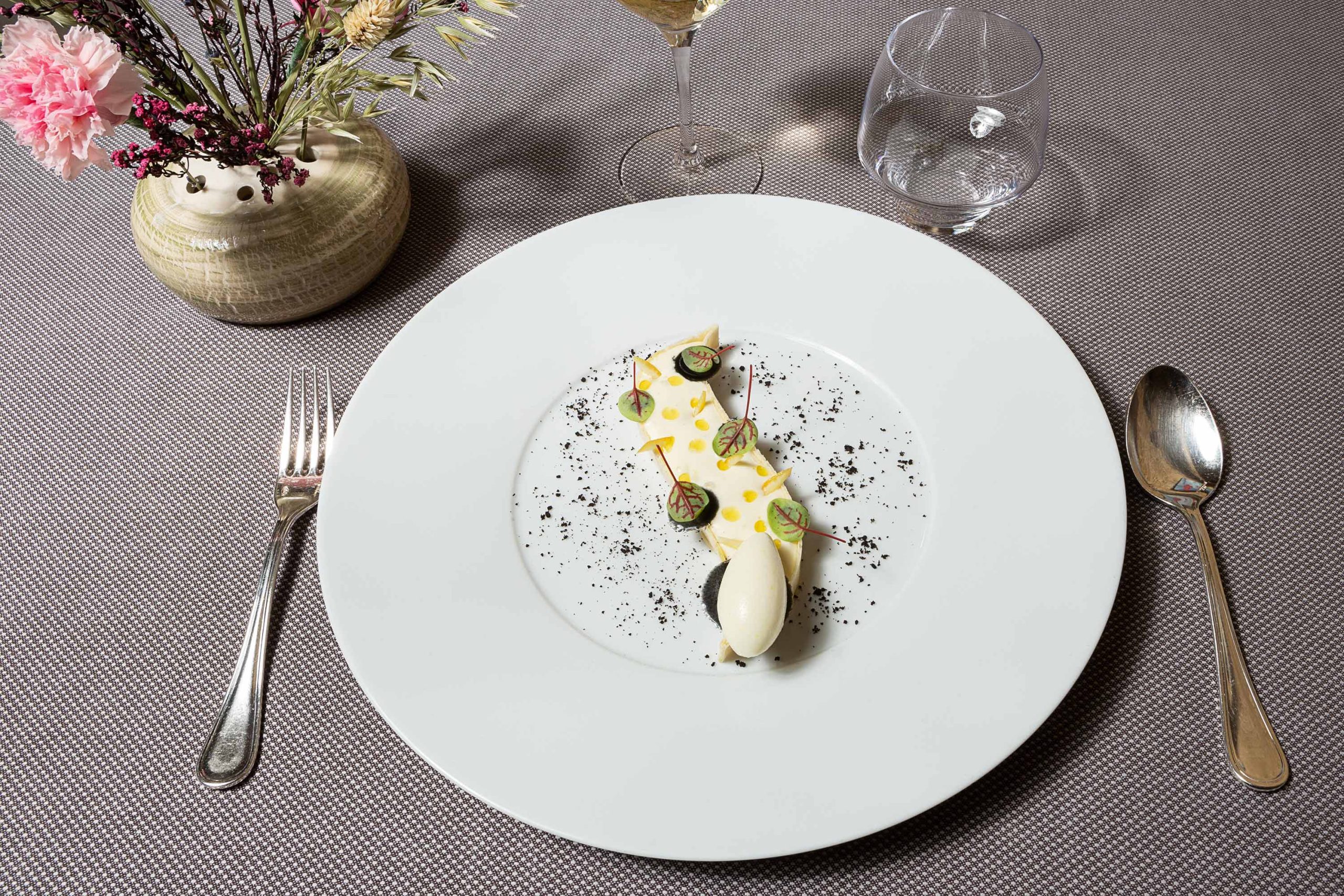 Gastronomic restaurant in Amboise
Pleasure for the eyes and the palate in the Loire Valley
Ideally located in the heart of the Loire castles, 2 km from the royal town of Amboise in a bucolic park overlooking the Loire, the Château de Pray offers the ideal setting for a highly gourmet trip!
Its gastronomic restaurant, which has been awarded one star in the Michelin Guide, invites you to taste subtle cuisine with flavours from here and elsewhere in an atypical setting.
Our troglodyte room and terrace to welcome you
L'Orangeriea pleasure for the eyes before the taste buds.
Our restaurant, just a stone's throw from Amboise, welcomes you to its beautiful, partly troglodyte dining room.
This unique room, measuring 120 m² with a 4 m high ceiling, is carved out of the rock on the hillside.
Its two bay windows with large arched windows open onto the Cour d'Honneur of the Château, letting in natural daylight.
In fine weather, you can also take advantage of our terrace overlooking the Loire.
Our restaurant and its team welcome you from Wednesday evening to Sunday lunchtime.
Come and enjoy a meal in his starred restaurant
Chef Arnaud Philippon and his brigade will take you on a highly gourmet shores you can trust!! With a BTS in hotel management, Arnaud Philippon cut his teeth in Alsace at the 1 Michelin-starred "Hôtellerie de Rosenmeer". After a detour to Brittany, he spent 2 years in Brussels at the famous 2-Michelin-starred "Comme Chez Soi" restaurant, before joining Château de Pray in 2010. He assisted Frédéric Brisset before succeeding him.
Arnaud Philippon expresses all his talent through subtle, punchy and original cuisine. In harmony, a fine wine list that our sommelier will happily reveal to you.
Meal thought up by our Chef
As our gourmet restaurant is closed from Sunday evening to Wednesday lunchtime, our Chef has put together a gourmet meal tray.
Prepared and cooked by one of the members of the brigade.
If you are looking for peace and quiet, cocooning or a romantic meal, opt for room service.
If you wish to dine at table, we can serve you in our Grand Salon or on our terrace in fine weather.
Please have a look at our room service map*.
* Dishes subject to change